FA Anywhere is our virtual class series featuring yoga, fitness, and climbing training led by some of the FA community's favorite instructors.
Join us from wherever you are and let's move together!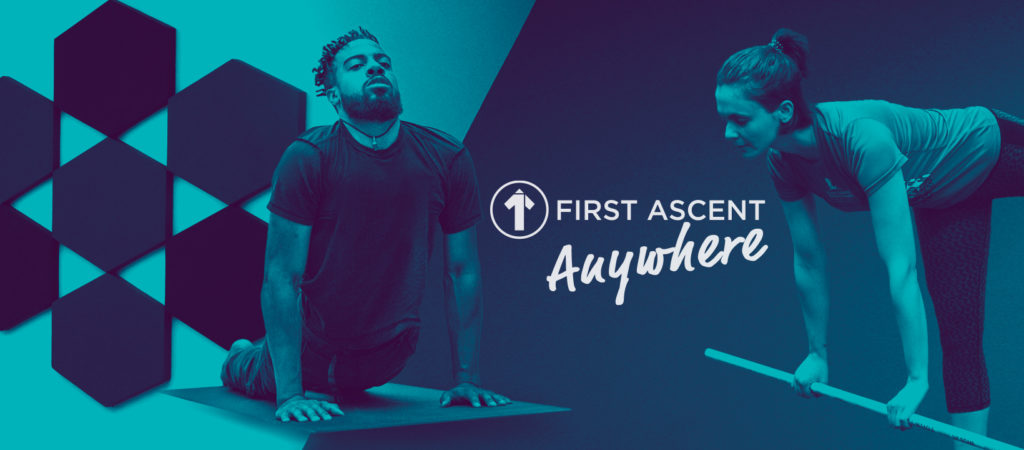 What is First Ascent Anywhere?
We created First Ascent Anywhere to keep us moving together even when we can't be together. All First Ascent Anywhere classes are designed to be done wherever you are – no specialized equipment required.
Join classes live. We've got a full schedule of live-streamed classes with some of your favorite FA instructors to get you flowing, sweating, and making gains from anywhere.
Enjoy classes on demand. Can't make a live class? You'll find recordings of all live classes from the past week in our on demand archive, plus workshops on a variety of topics to check out.
Active FA members: join classes for free via Mindbody! Join live for a full interactive experience, or enjoy classes on demand for a week after in our online archive.
Not an active member? You can drop into a live class for $5. Just click "Book" on the schedule below and select the $5 Drop In option when checking out.
Or, better yet, become a Virtual Member! Virtual Memberships are $39/mo and give you access to all FA Anywhere live and on demand classes. Learn more and sign up by emailing anywhere@faclimbing.com.
Peruse our schedule of live classes below, or check out our on demand class archive.
Join us for a live class.
Use the schedule below to book your live class and we'll look forward to moving with you.
Access FA Anywhere on demand.
Live class recordings remain in the archive for one week. You can also find workshop videos on a variety of topics to enjoy.
New to First Ascent? You must have an account with us to access on demand classes. Start by completing a waiver, then remember your username and password to log into the archive linked above.