Dear FAmily,
Words can't fully express our gratitude to the FA community for stepping up to support First Ascent. Which is good, because we're speechless seeing how much support flowed in over the last week, from your kind words (see image below for just a handful of the beautiful comments we received), to members keeping their memberships active, to people purchasing FA gift cards and Stronger Together t-shirts to show their support.
We asked you to opt in, and you all showed up beyond what we imagined.
THANK YOU from all of us at First Ascent. It means the world to us to know you have our back.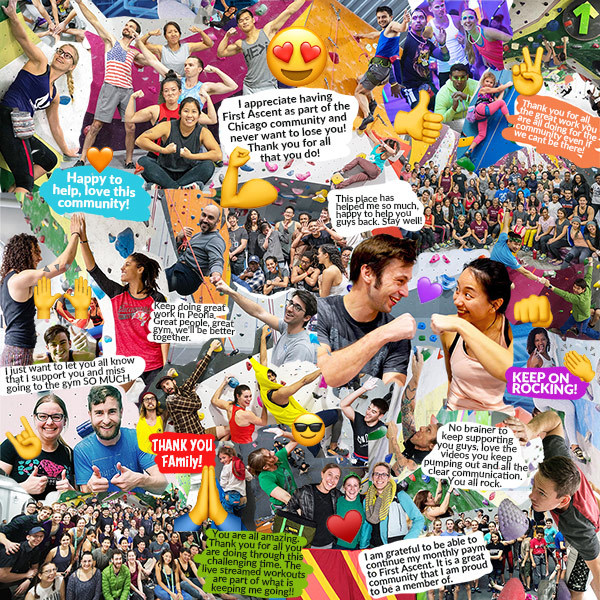 We're so happy to report that because of the amazing support from our members and community, First Ascent is in a strong position to make it through the extended closure, support our staff in the meantime, and re-open as soon as possible once it's safe to do so.
Your support empowers us to: (1) keep a small group of full time staff on for the extent of the closure, (2) continue to pay for health insurance for any qualifying staff, (3) create an Emergency Assistance fund to help any FA staff who are having trouble getting unemployment insurance or are struggling to make ends meet, (4) continue offering live streamed FA Anywhere classes, (5) provide training and development opportunities for staff during the closure, (6) bring furloughed staff back on in advance of re-opening to help prepare the gyms to welcome you all back, and (7) ultimately emerge from the closure ready to serve this community the way we love to.
On a separate note, we're also thankful for the bipartisan support of the CARES Act, which provides additional assistance to our furloughed staff as well as for First Ascent as a business. It's inspiring to see people coming together despite the challenges we face, both locally and on a national level.
We are stronger together, and we know that the FA community will emerge from this stronger than ever because of your support.
Much love and gratitude,
Dan, Joe, Jon, & Dave | the First Ascent founders