Whether locally or abroad, we love when our community goes on climbing trips. We love it even more when the FAmily comes back with stories of their adventures at the crag(s) they traveled to and are willing to share their experiences with others. Here, Grace Romanelli heads down to the land of hand-rolled cigars and a former haunt of Ernest Hemingway. Do you have a climbing story/adventure you'd like to pitch/write for the FA blog? Email us at: blog@firstascentclimbing.com if you're interested.
"Cuba On My Mind"
We landed at Jose Martì airport. We stepped off the plane straight into a tropical heat, the sound of Latin music, and an hour and a half long line to exchange dollars to convertible pesos (CUC). We were in Cuba. Irreverent, audacious, survivalist, sensual, proud and defiant Cuba; a prince in a poor man's coat, as some have said.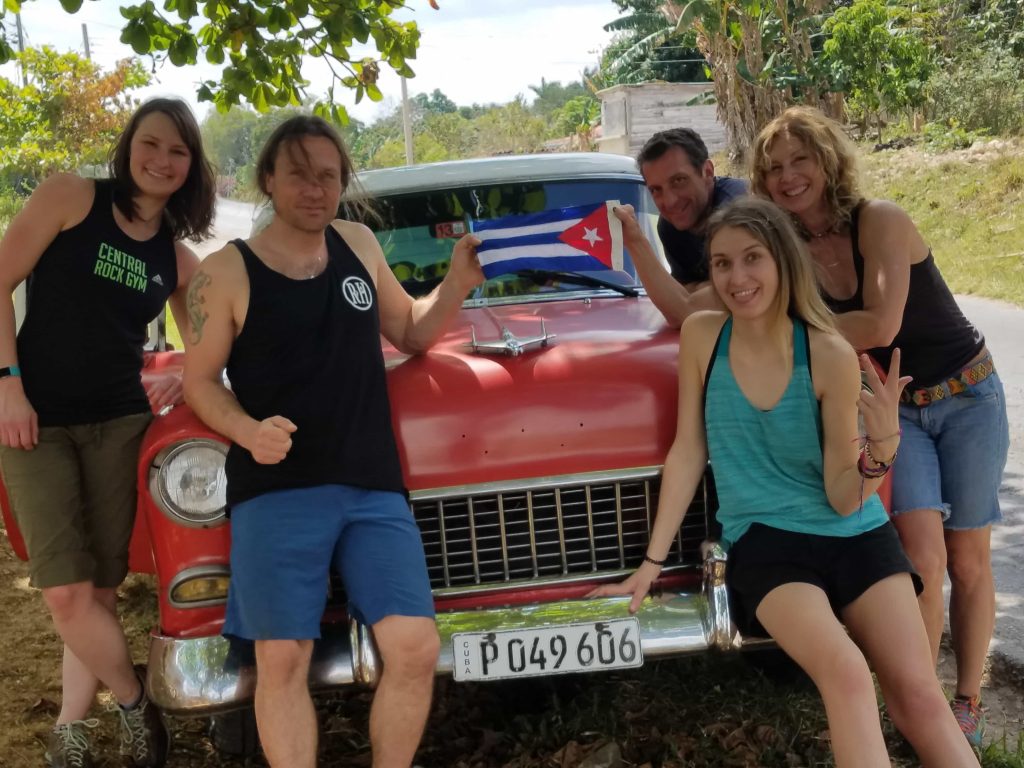 A jovial cabby took us to our Airbnb in the center of Havana. After a brief exchange with the host, we set out to explore the city. Malecon, often called the Lake Shore Drive of Havana was nearby, and so we walked along the path taking in the scene; the spray from waves breaking along the seawall greeted us as did the locals, couples danced, fishermen cast their lines. We were dazed by the ever-present remnants of the "Revolucìon," admiring the old and the new living in perfect harmony. A myriad of old, colorful Chevrolets, Buicks and Fords honked at us as they raced up and down the boulevard, until everyone disappeared with that evening's hauntingly beautiful sunset.
For the next two days, the city shared with us some its scars from the turbulent past, and boasted signs of promising future. Our Havana nights belonged to local music venues, providing us with a true feast of Latin sound and dance.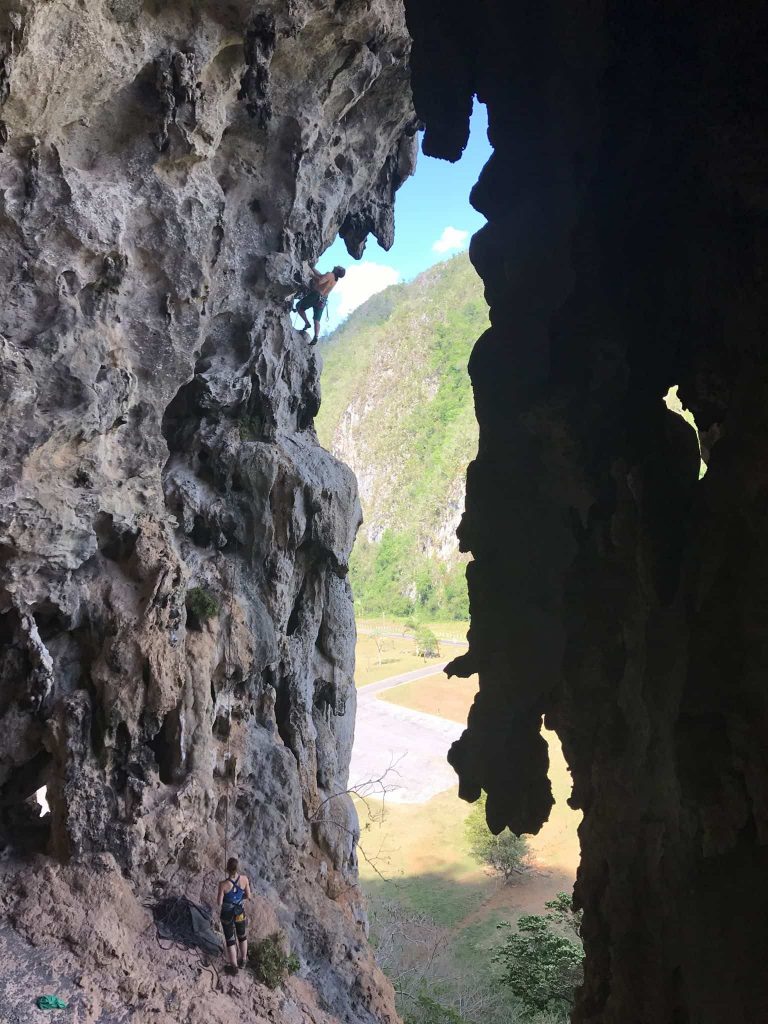 Day three…
On day 3 – in a fire-engine red 1955 Chevy – we set out to Los Viñales, which would be our climbing destination for the next four days. Valle de Viñales located the western, mountainous province of Pinar del Río, offers climbers overhanging limestone faces called "mogotes" that rise above local fincas (farms), red-soiled tobacco fields and lush palm trees. The climbing was phenomenal: pulling on jugs and pockets on stupendous overhangs of stalactites and tufas.
Viñales was a cozy town that greeted us with its clean, colorful bungalows, open air spaces and comfortable accommodations. As we woke up to a blue sky and a delicious breakfast, we soon realized that the only comfortable climbing needed to be in the shade. We set out to Cueva Larga, a very narrow, canyon-like crag, with gritty limestone walls and a variety of routes ranging between 5.9 and 5.12+. The rock seemed super sharp at the first touch, which did not matter that much. We were starved for climbing and adventure.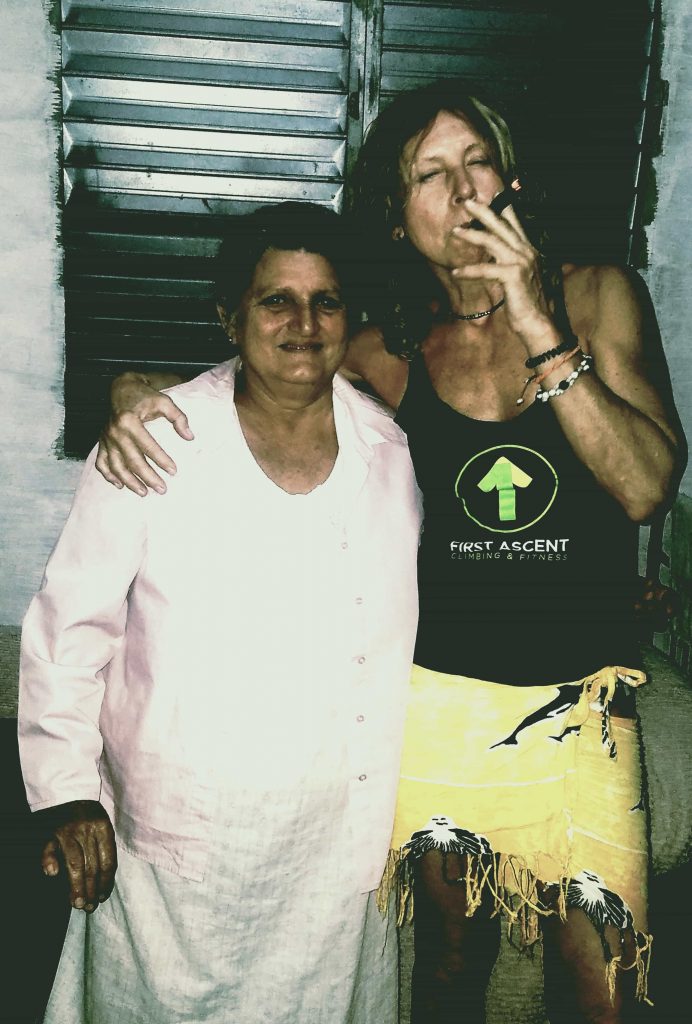 On the way back, a local farmer (guajiro) invited us over to his humble house, where his mother-in-law greeted us with a tasty coffee, a hand made cigar and a bottle of rum. The family insisted that, next time we come around, we stop for dinner. So we did, mostly out of curiosity, and the hosts prepared a delicious yucca meal, garnished with small green peppers and spices. Do not ask for a recipe. Such treats when traveling abroad can never be replicated at home, because they are seasoned with local love and generosity.

More Cuban crags:
For the next 4 days, we ventured into a few other local climbing spots. El Palenque located four kilometers north of town was the hub of the first routes put up in Cuba. Besides climbing, El Palenque offers a bar by day, located in an impressive cave with hanging stalactites. The bar changes into a disco on Saturday night, where you can dance to your heart's content to sensual salsa rhythms.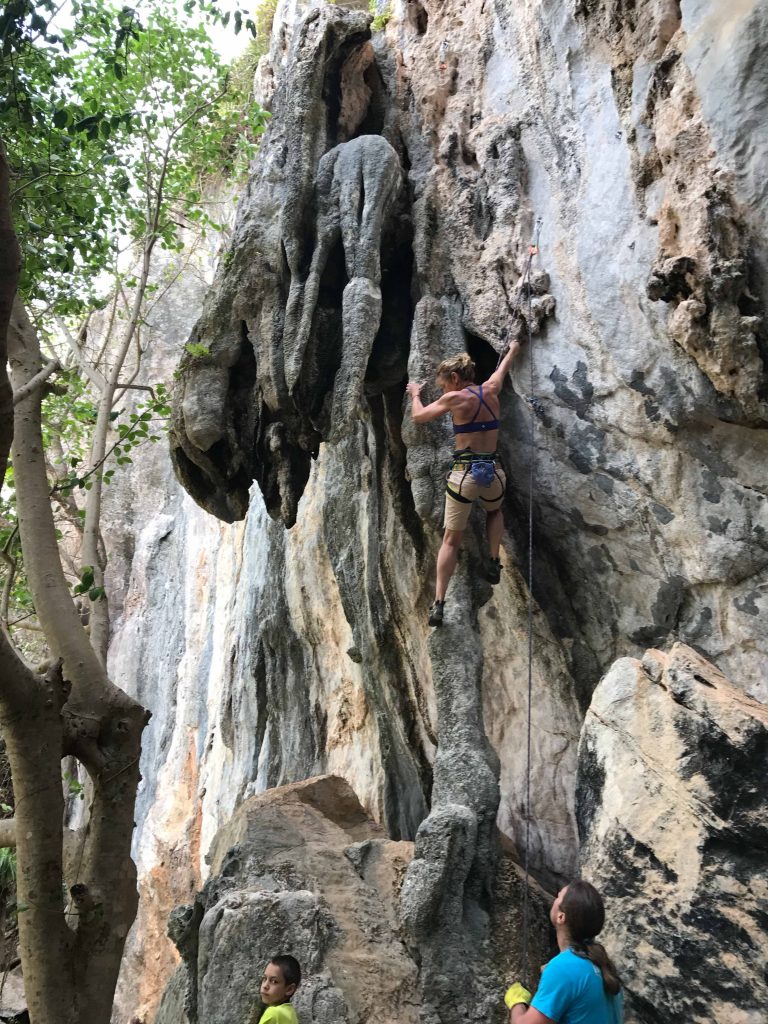 Vinales' most popular crag, Cueva Cabeza de la Vaca, forms an impressive 30-metre overhanging wall and it has become a ''local gym.'' Getting to the cave is easy, passing through la Finca de Raul (Raul's farm), where you can buy some of his juice, fruit, or tobacco. The crag, despite its intimidating look, offers some fun moderate routes, in addition to its classics, such as Wasp factory, named for the wasp nests claiming the line.
On our rest day, a local driver took us to a nearby beach, Cayo Jutìa, where the tropical sun, exquisite sands and easy-to-swim-to-reef turned out to be the perfect paradise-balm for our tired muscles.
Cuba makes you commit. As we drove back to the Jose Martì airport, we pondered the Cuban Revolution and how a country so small and vulnerable could resist its omni-powerful neighbor for so long… these are some questions for which we'll have to go back to Cuba to answer; while we're at it, we'll bring some climbing gear along, just in case!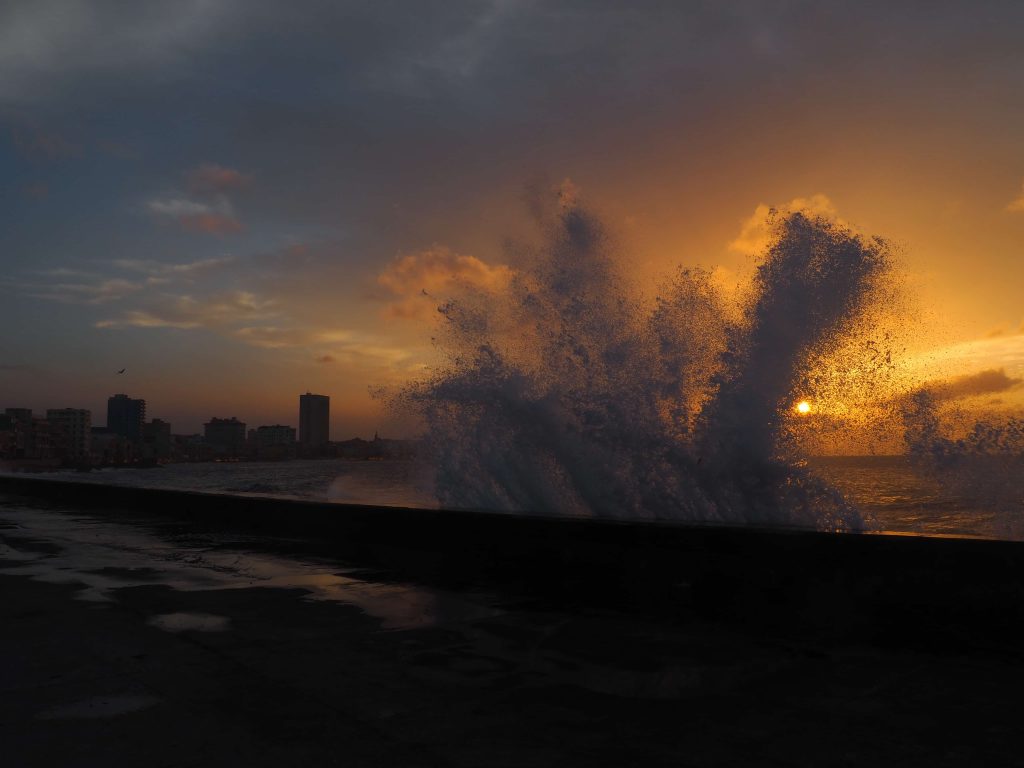 By: Grace Romanelli