Hey Chicagoland - let's climb!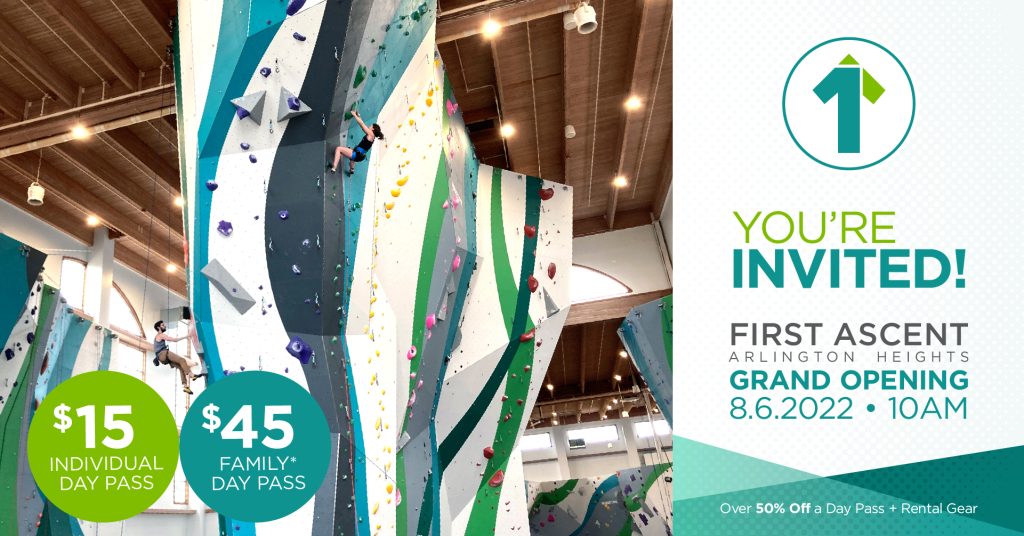 Join us for the Grand Opening Party at First Ascent Arlington Heights!
We've got a whole day of climbing, yoga, fitness, and fun planned, complete with giveaways and more. Best of all, Day Passes are over half off including rental gear all day long!
FA Arlington Heights Grand Opening Celebration
Saturday August 6th
10:00 AM – 8:00 PM
$15 Individual Day Pass | $45 Family Day Pass
Includes Rental Gear
No need to register in advance – you can purchase your Day Pass when you arrive.
Here's the itinerary for the big day:
10:00 am – 1:00 PM: Family Fun
Get your kids or your whole family climbing with our Youth Instructors to help you get started, and learn more about our kids classes and programs.
1:00 – 4:00 PM: Intro To Climbing
New to climbing? Our experts guides will help you climb to new heights with free technique coaching and belaying.
4:00 – 8:00 PM: Community Night
Climb and connect with the FA community, and enjoy free food and drink after your session!
We're also hosting the following yoga classes on Grand Opening Day:
10:30-11:30 AM: Power Yoga
Power up with a flow that's designed to enhance your strength, balance, and flexibility.
12:00-1:00 PM: Slow Flow
Come enjoy a slow vinyasa that's parts movement and relaxation.
Click below to RSVP and share the event on Facebook.