First Ascent Arlington Heights hosted USA Climbing Youth National Championships from July 25-31 2022. Read on for a recap of the competition, some highlights from the FA Climbing Team, and more.
Encouraging cheers and vigorous applause echoed throughout First Ascent Arlington Heights' spacious, vibrant gym. Families, friends, coaches, and teammates all gathered to watch the nation's youngest, strongest climbers meticulously maneuver up the gym's spectacular climbing walls up to 52 feet high on long, difficult routes.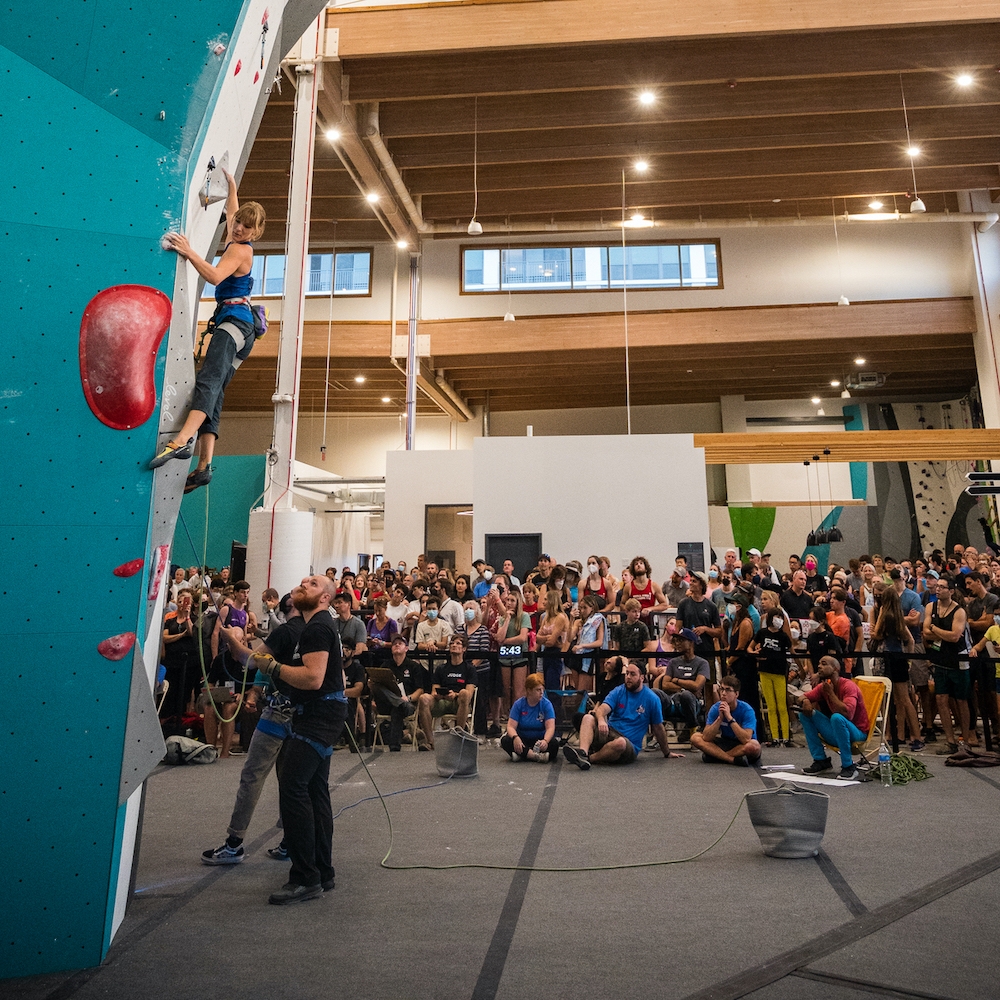 These lill crushers conquered challenging climbs with a wide range of strength, dexterity, flexibility and courage. They hang from their toes upside down, grasp a hold with just a millimeter of surface, fly through the air to catch another hold, balance on a tough slab, and zoom up the speed wall like Spiderman. Fingers bloody and swollen, knees scraped, arms scarred, even stitches required between qualifying round – these kids do not give up. They are invincible, climbing grades never thought possible for their age, or any age for that matter.
Young athletes competed at USA Climbing Youth Nationals Championships in three distinct disciplines (Speed Climbing, Rope Climbing, and Bouldering) over the course of the seven-day event from July 25-31, and twenty-four national champions were crowned. The championship event hosted around 400 youth athletes from across the nation. The first three days were bouldering, followed by speed for days four and five, and lead/top rope culminated the final three days. 
After the chalk dust settled, the twenty-four national champions for each discipline and age category had been crowned:
Bouldering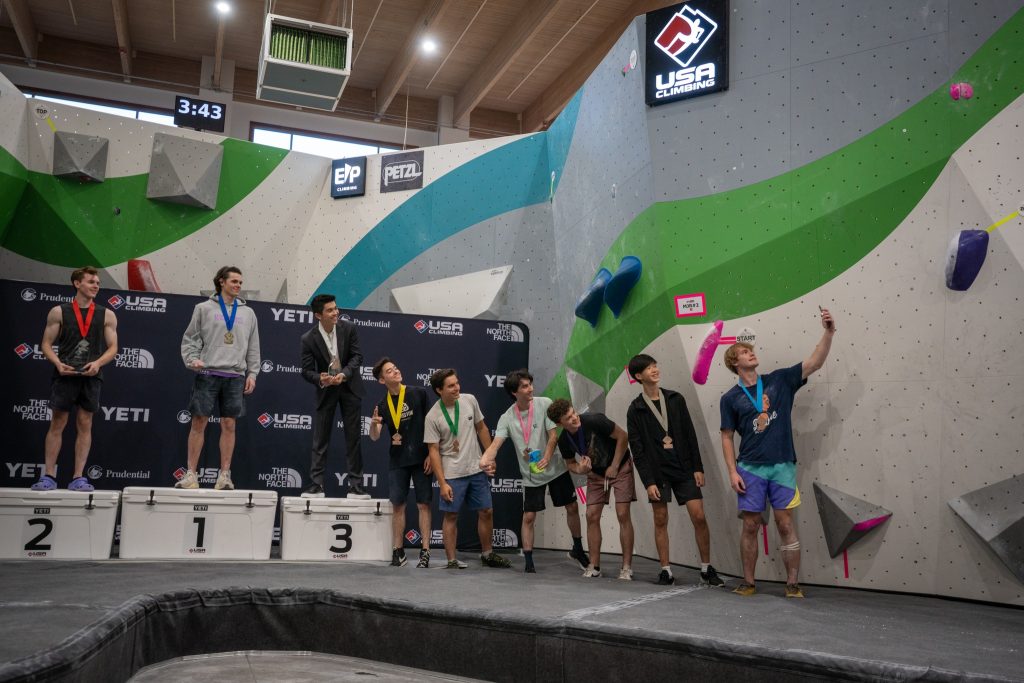 FJR: Helen Gillett
FYA: Sovarae Sanders 
FYB: Anastasia Sanders
FYC: Lucy Crissman 
MJR: Zander Waller
MYA: Dillon Countryman 
MYB: Auggie Chi
MYC: Theodor Schermann 
Lead/Top Rope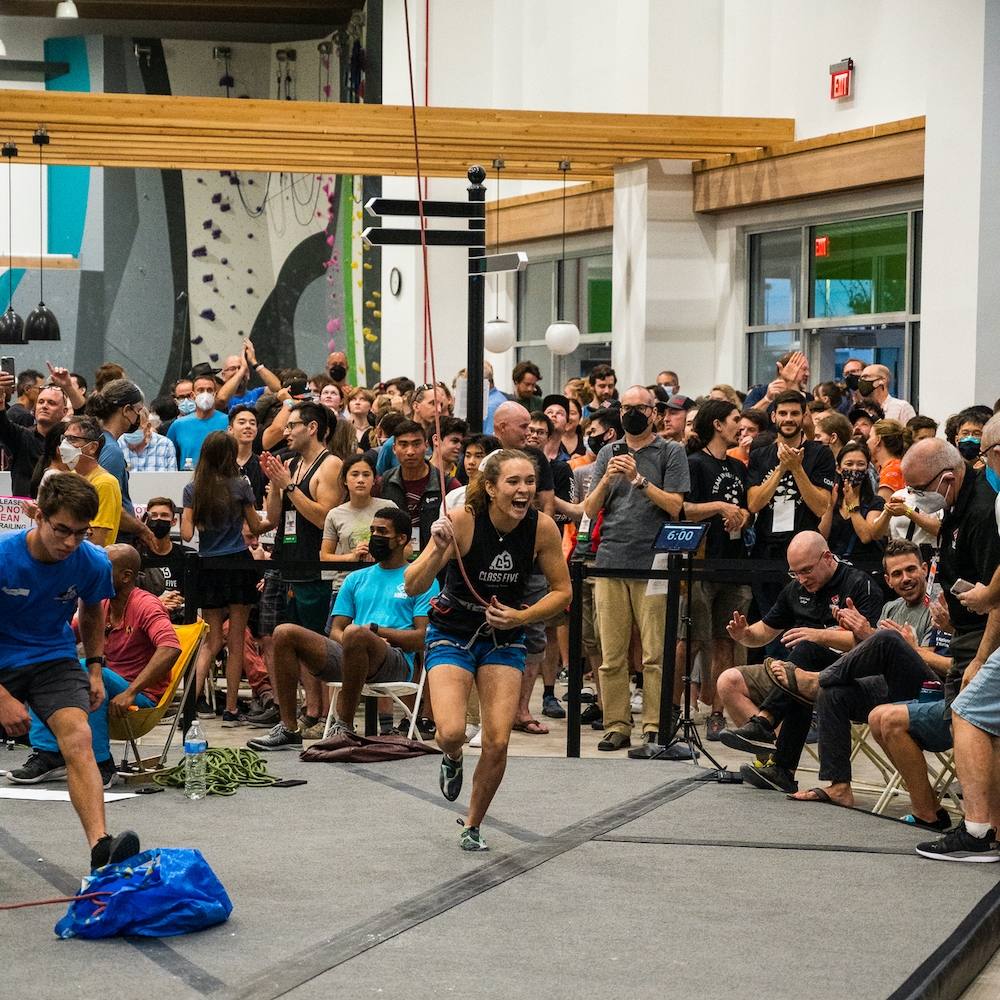 FJR: Kylie Cullen
FYA: Ella Fisher 
FYB: Anastasia Sanders
FYC: Maya Ene 
MJR: Sergey Lakhno 
MYA: Dillon Countryman 
MYB: Hugo Hoyer 
MYC: Landers Gaydosh 
Speed
FJR: Callie Close
FYA: Sophia Curcio
FYB: Lily Nguyen
FYC: Joyce Yang 
MJR: Zachary Palmer
MYA: Dillon Countryman
MYB: Logan Schlecht
MYC: Mitchell Boyer 
For the full results, check out the USA Climbing Youth Nationals Results page here.
And for all of the official photos from the competition, check out the USA Climbing Facebook page here.
First Ascent's venue team did a phenomenal job, receiving many compliments about the facility from participants and spectators.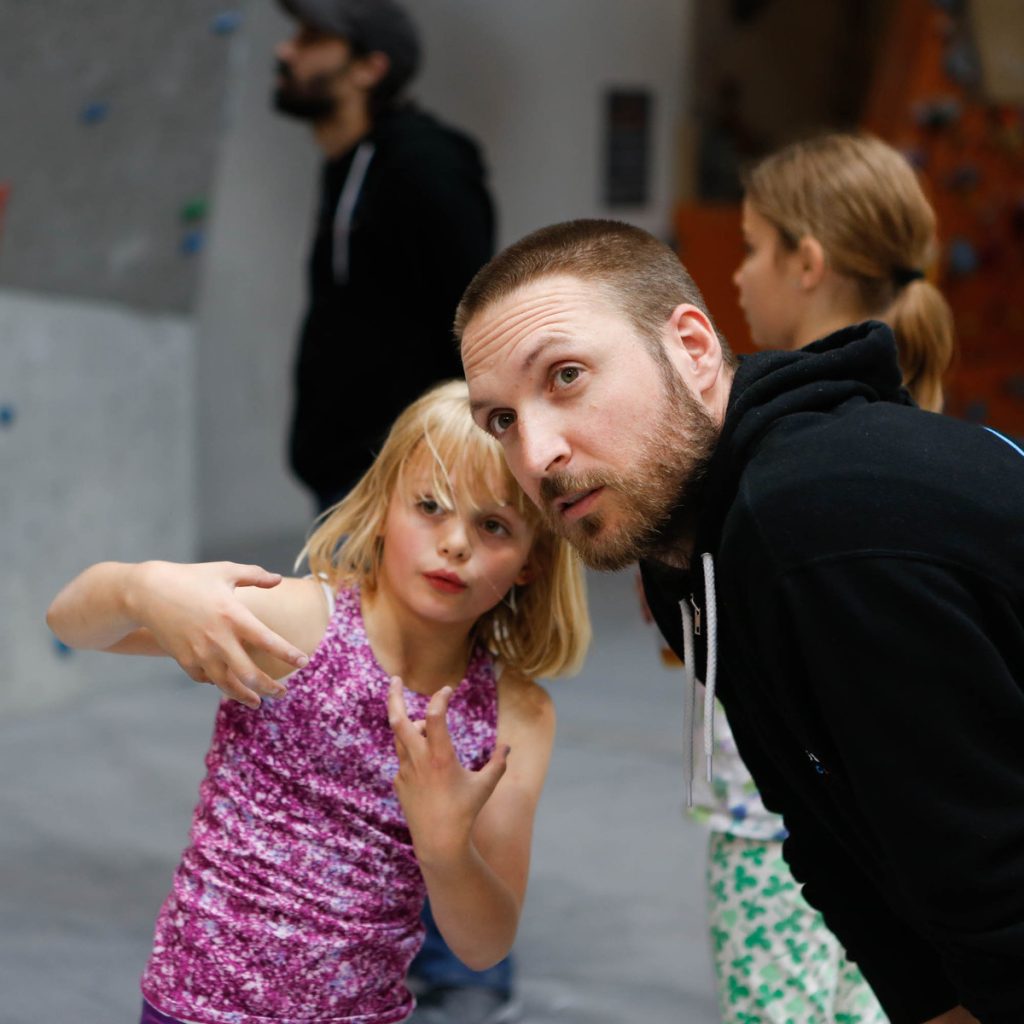 According to FA Climbing Team Coach Alex Nero, Arlington Heights had the best warmup areas he has seen in his decade of Nationals experience. All in all, Arlington Heights is a perfect home for USAC Youth Competitions. 
"The [FA] team climbed with great maturity," Alex said. "Warmups led by Dave Lin were productive, creative, lighthearted, and fun. I can't emphasize enough how important the smiles and trust in one's self as an athlete dictate your performance. Not everyone got where they wanted, but again, the team climbed with a professional level of confidence, strategy, and heart. There are challenges ahead, and we are moving towards them with fervor and grace." 
First Ascent's team had some excellent performance highlights. Their speed team had seven semi-finalists and two finalists – Micah Liss, Sonia Gutierrez, Micah Feller, Madison Ruth, Luke Hower, Sydney Bock, and Austin Bock all made Semis, allowing the FA team to finish as the fifth fastest team in the nation! 
Owen Pham took 6th in bouldering and 9th in lead. According to Alex, Owen's warmups and time in isolation were super fun and carried the team through both disciplines. He also won the unofficial award for most entertaining athlete in the competition!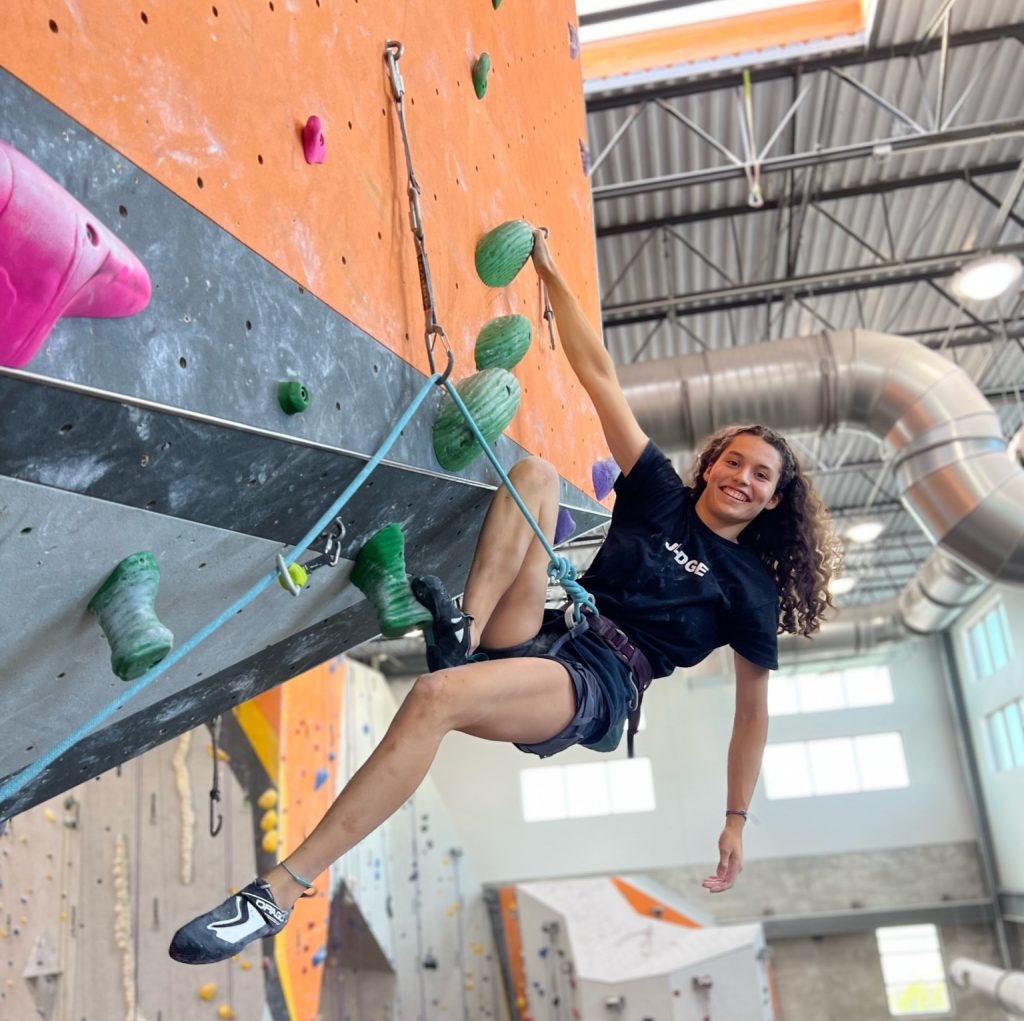 Sonia Gutierrez made semi-finals in bouldering and finals in speed. Her top-20 in bouldering and 5th place in speed, coupled with her admirable rope performance, will place her amongst the top overall climbers in the country. 
"I was really glad that the week started out with bouldering, because it is my favorite of the three disciplines," Sonia said. "At last year's nationals, I placed 22nd, 2 spots out of semis, so my goal this year was to make semis. I really surprised myself in qualis, placing 12th with two tops and three zones. I had a lot of fun during the round, and was pretty happy with how I climbed. In semis, I flashed three zones, but could not get the top I needed to move on. I placed 15th in semis. It's always cool to climb with so many strong athletes from around the country, and cheer on all of my teammates and friends. I can't wait for the next season to start and to train hard for next year." 
Austin Bock made the semi-finals in ropes. He got a wound on his inner elbow during warm up on day one of qualis, and the wound required stitches.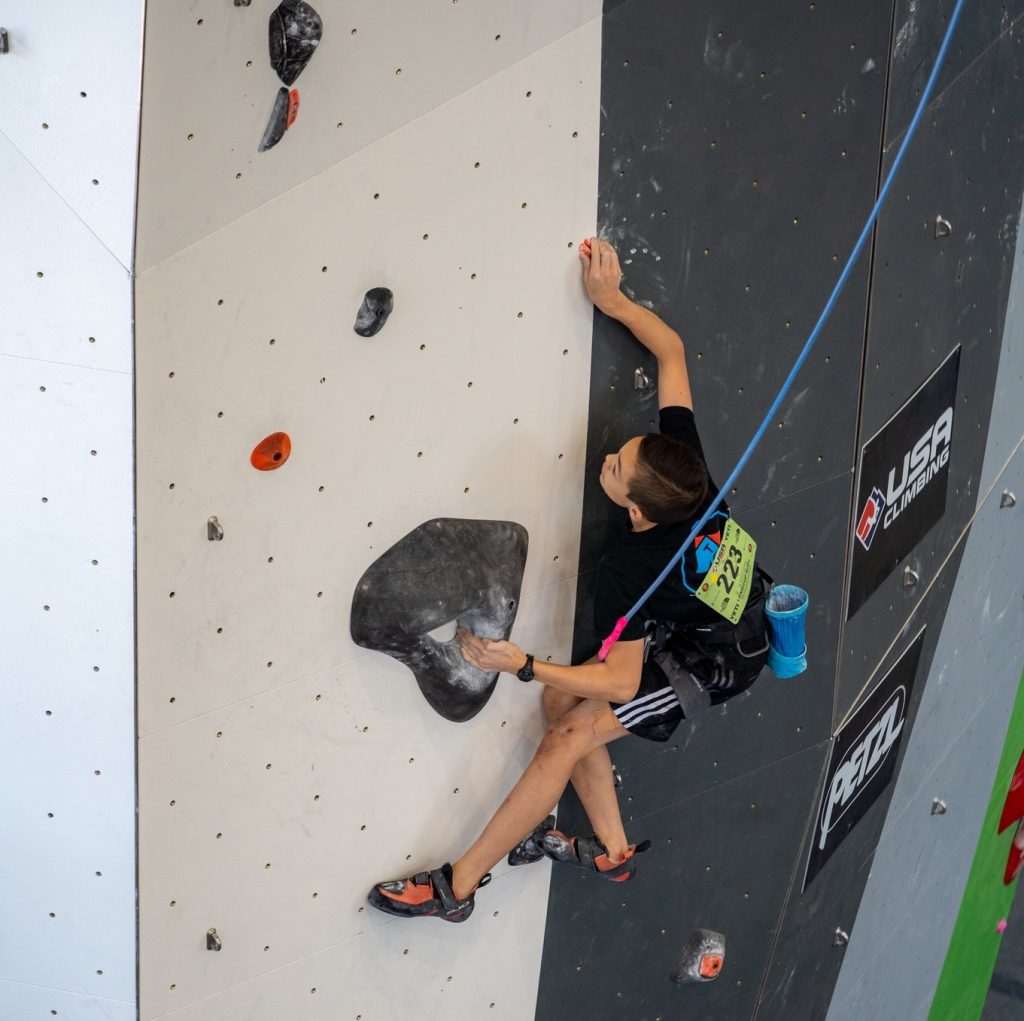 After 7 hours in the ER, he came back the next morning for route two and climbed even better! Austin is another Top-20 finisher in the nation. As Alex said, Austin's grit and perseverance were "beyond admirable and a testimony to the human spirit! We are proud of Austin!" 
Micah Liss led the speed team, which he also coached, with a 2nd place, earning him a spot on the national team and the national record for Male Juniors with a 5.86 seconds for the 15 meter speed wall. Micah is graduating and aging out of youth competition, but he will continue competing on the IFSC circuit, as well as climb in Dallas, Texas at the end of August for the Youth World Championships. 
Sophie Volchenboum is also aging out of youth competition. She has been a National's staple for the last decade and will be missed by the team at practices. According to Alex, her confidence and leadership have been valuable throughout her time on the team.  
Now that the competition has finished, we wanted to send out some BIG THANKS to everyone who made it possible: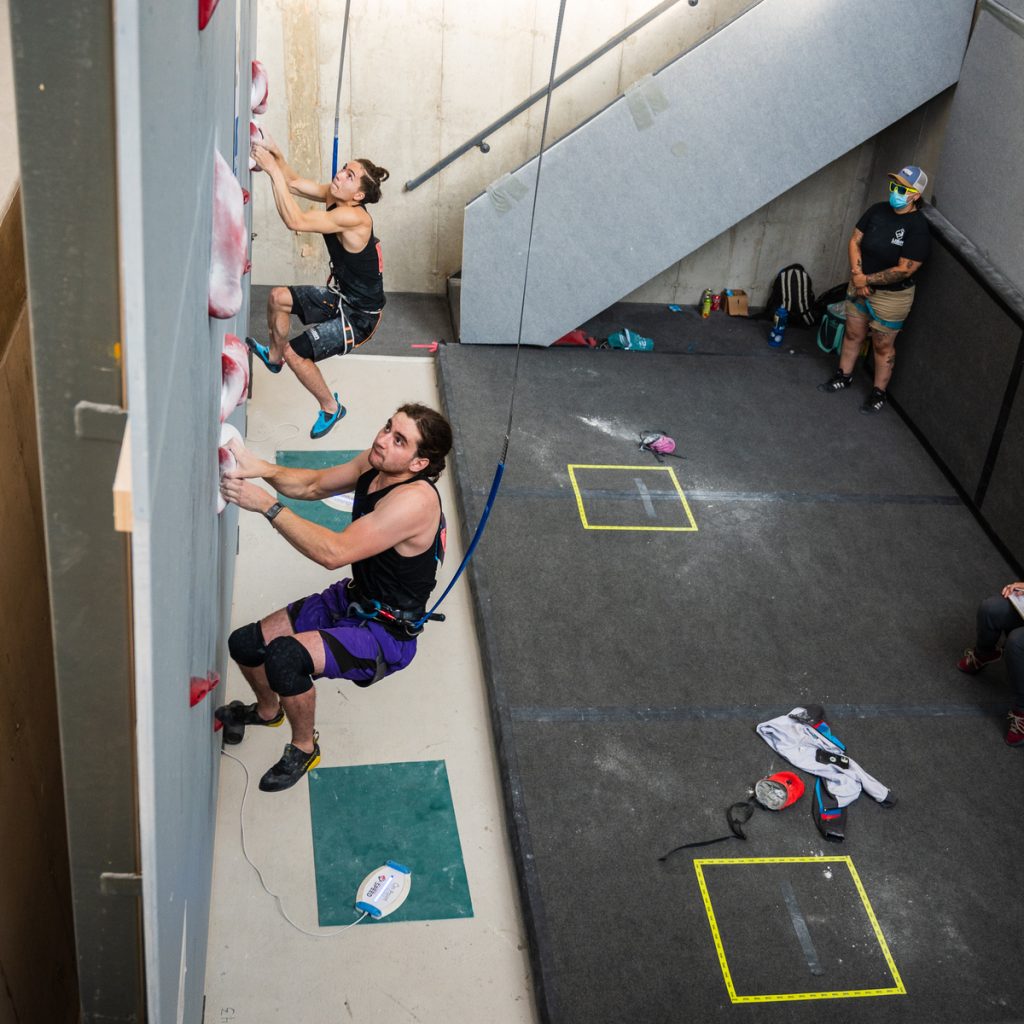 All of the volunteers for pitching in to judge, belay, and make sure the competition ran smoothly
The fantastic team of routesetters, who brought fun, creative, challenging routes and boulders for each segment of the competition
The USA Climbing staff, a tireless group of absolute professionals
The parents, who brought an abundance of energy, support, and patience as we worked through all of the challenges we encountered hosting an event like this for the first time
We're grateful for partnering up with you to make the 2022 USA Climbing Youth Nationals a huge success for competitors and families alike.
Looking ahead, the future of the FA Climbing Team is bright. We hope to see some of our team's athletes as well as the persevering and resilient rockstars we hosted this week competing at the Paris 2024 Olympic Games, which will feature an even more robust showcase of international climbing than Tokyo 2020. Here's to raising up the next generation climbers and taking our sport to the next level. Climb on, y'all!
Photo credits: Joey Murphy Photography, Brees Roble, USA Climbing