Sport Climbing Makes It's Olympic Debut
After a year of uncertainly due to the Covid pandemic, the Olympics are finally underway in Tokyo! This week, 40 of the world's top sport climbers (20 women and 20 men) will take the stage at the new Aomi Urban Sports Park in Tokyo to compete in the first ever Olympic Sport Climbing competition.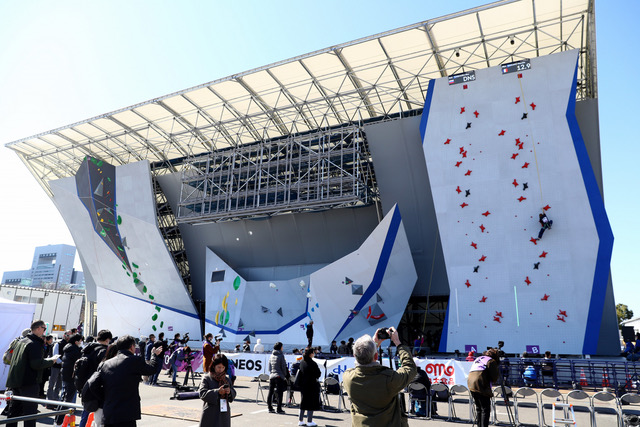 While competitive indoor rock climbing ("Sport Climbing") has been a professional competitive sport since 1986, it has been a long road to the Olympics. Athletes originally competed only in lead ("roped") climbing events, with speed climbing being added in 1989, and the fast-growing bouldering discipline added a decade later in 1999. The professional World Cup Circuit has been steadily gaining in popularity over the past two decades, and climbing was added to the World Games and Asian Indoor Games in 2005, officially recognized by the IOC in 2010, and in 2016 confirmed as a new Olympic sport that would make its debut in the 2020 Tokyo Olympic Games.
Securing one of the coveted 40 spots in the Olympics has been a challenging 2-year process for the world's best competitive climbers, with only a handful of qualifying events being hosted by the International Federation of Sport Climbing (IFSC) around the world. The top 7 female and 7 male finishers at the 2019 IFSC Combined World Championships in Tokyo received a spot, and another 6 female and 6 males spots were awarded to the top finishers at the 2019 IFSC Combined Qualifier event in Toulouse, France. Five Continental level events were then hosted in 2019/2020, with only a single qualifying spot available at each for the male and female winners of these events. The last two spots were reserved for the host country and an IOC selection committee.
The U.S. Olympic Sport Climbing Team
Many in the world of competitive sport climbing thought that the U.S. might have a difficult time qualifying any athletes into the Olympics based on the small number of slots available and the extremely difficult qualification system. While the top U.S. athletes lack the World Cup experience of the top European and Asian climbers, who have dominated the international circuit for more than a decade, it turns out that the U.S. is one of only 3 countries to field a full team of climbers (2 men, 2 women), along with France and host country, Japan!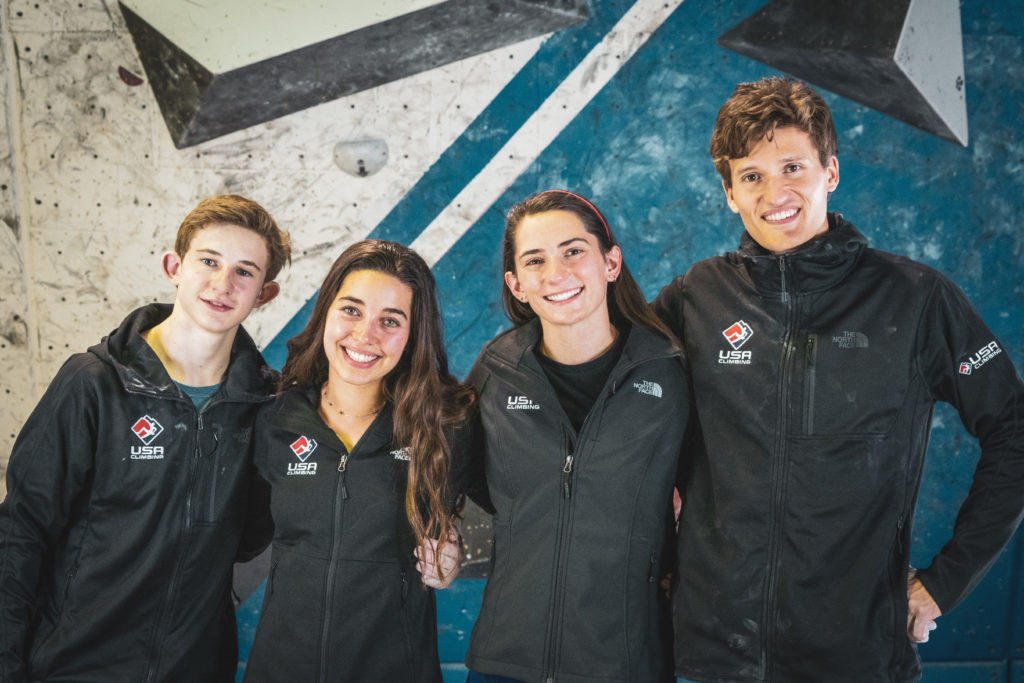 Brooke Raboutou was the first American to secure an Olympic spot with her performance at the Combined World Championships in Tokyo. Nathaniel Coleman and Kyra Condie (a fellow Midwesterner from MN) both secured bids at the Toulouse Combined Qualifier, and Colin Duffy, our youngest athlete, secured the final spot by winning the IFSC Pan-American Combined Championships in Los Angeles at the age of 16!
Learn more about the U.S. Olympic Sport Climbing Team here.
The Olympic Combined Format
Even those familiar with World Cups, or perhaps simply a local climbing event in their own gym, may find the Olympic Combined Format unusual or confusing. The "combined" format means that there are no individual discipline specialists at the Olympics—all 40 athletes must compete in all 3 climbing disciplines: Lead climbing, Bouldering and Speed. The qualification round will take place on Aug. 3rd and 4th for men and women, respectively—with all competitors competing in Speed, then Bouldering, and finally Lead climbing in a single day. The top 8 men and 8 women will advance to finals on Aug. 5 and 6, respectively.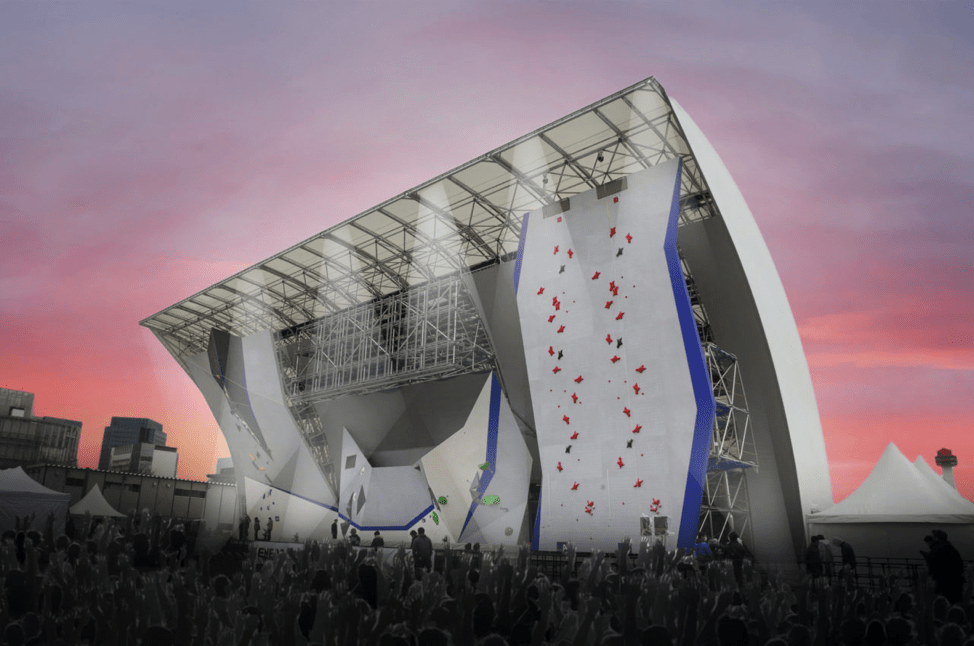 Each athlete will first receive a ranking based on their performance in each individual discipline in qualifiers, and the 8 finalists will be selected by multiplying their individual discipline ranks together to get a "combined" ranking—the lower the better. For example, if a climber were to take first in Speed, third in Bouldering and fifth in Lead, their combined "score" would be 1 x 3 x 5 = 15. It becomes easy to see that winning any individual discipline is a huge advantage, and alternately, placing extremely low in any discipline will almost certainly end a climber's chance of moving on. Scores will be "zeroed out" for the finals round, and the medalists will then be chosen using the same formula based on combining their individual discipline ranks from the finals round only.
Speed Climbing
Speed Climbing is the most specialized of the 3 disciplines, and often unfamiliar to most. It takes place on a 5º overhanging 15-meter wall using a standardized route of 31 holds that has not changed in over 15 years. If you've been to our Avondale location, you probably do know what speed climbing looks like since have an official 15-meter speed wall. What's more, FA Youth Team climber Micah Liss recently took the bronze medal at U.S. Youth Nationals in the male JR category with a mid 6-second time.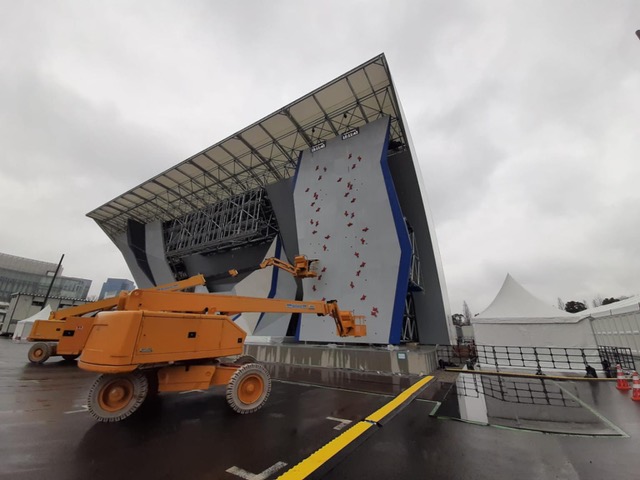 Because the athletes have been practicing the same route for years, times have become blazingly fast. Expect the top male climbers to be under 6 seconds and the top women to be in the mid 7-second range. For Qualifiers, climbers will receive 2 runs, and be ranked based their fastest time. A fall will not disqualify a climber as long as they have 1 valid time, but beware of false starts, as this will cause a climber to be ranked last in the round! The finals round of 8 for Speed will be an extremely exciting bracket of "knock-out" races (think Elite 8 in the NCAA basketball tournament) where the athlete's time does not matter, but only that they win each head-to-head race!
Bouldering
If you've been to any FA location, especially our Block 37, Humboldt Park, Uptown locations, you are certainly familiar with the Bouldering discipline. The Bouldering portion of the Olympic Combined will be defined by powerful, dynamic moves that involve complex problem solving and difficult coordination. In the qualification round, the climbers will have a series of 4 "boulders" to solve with a 5-minute time limit on each. They may attempt the boulder as many times as they wish during their 5-minute limit. Each boulder will have a unique, and often difficult, starting position marked with 4 pieces of tape (one for each limb!), a "Top" hold to designate the completion of the problem, and a "Zone" hold somewhere in the middle for "partial credit." The name of the game in bouldering is TOPS—if you have more tops than anyone else, you will be rankled 1st. If several climbers have an equal number of tops, they will then be compared by Zone holds achieved. If any climbers are still tied after that, they will then be compared by the number of attempts to reach their Tops, and attempts to reach their Zone holds, respectively. A climber's qualifier score may look something like this: 2t 3z 5 8 which is read as 2 Tops ("2t"), 3 Zones ("3z"), 5 total attempts to reach the two tops ("5") and 8 total attempts to achieve the three zones ("8"). Finals will be identical to the qualifying round with the exception of having only 3 boulders to climb, and only 4 minutes to climb on each.
Lead (rope)
Lead Climbing will conclude both the Qualification and Finals round. In contrast to bouldering, the Lead Climbing discipline will require endurance in addition to power, as well as extreme accuracy and focus since each athlete only has a single attempt on one route to achieve their best score. The route will be roughly 15-18 meters tall, and each climber will have 6 minutes to climb as high as possible, clipping protection points called "quickdraws" with their rope for safety as they ascend. Unlike bouldering, climbers will receive a 6 minute "group preview" to look at the route and plan their sequence up the wall before going back into isolation ("ISO") and then coming out to climb one at a time. Each hold up the route will have a point number associated with it (not known to the climbers), and the climber that controls the highest numbered hold will be ranked first. A climber may also receive "+" added to their score if they make movement toward the next hold before they fall, helping to eliminate ties (e.g., a score of 38+ would be ranked above a score of 38). Time will only come into play if two climbers have identical high points in both the finals and the qualifying round. The Qualifying and Finals round will be identical in format but will be climbed on different routes.
What to Look for?
The U.S. Olympic Team members, of course!  Brooke Raboutou is the highest seeded U.S. Athlete, but Nathaniel and Kyra are both strong dark horses to watch for, and Colin is considered a true wild card. For the men, Adam Ondra (CZE) and Tomoa Narasaki (JPN) are the heavy favorites. For the women, everyone expects Janja Garnbret (SLO) to win . . . but it's competition climbing, and anything can happen, so tune in!
Better yet, join us for Olympic Watch Parties happening at all FA locations:

Tuesday August 3rd | 5:00-10:00 pm | Men's Combined Qualifier
Wednesday August 4th | 5:00-10:00 pm | Women's Combined Qualifier
Thursday August 5th | 5:30-10:00 pm | Men's Combined Finals
Friday August 6th | 5:30-10:00 pm | Women's Combined Qualifier
We'll have a watch zone ready for you at your favorite FA location, so come catch all the action, enjoy some snacks, submit a bracket for a chance to win some great prizes, and connect with other climbers.
By Dave Hudson, FA co-founder and Head Coach for the FA Climbing Team.